YOUR WARDROBE ESSENTIALS UNDER ONE ROOF
Everlane promotes exceptional quality, ethical factories, and radical transparency. Everlane caters to both men and women to provide ethically sourced fashion and accessories. Everlane has received attention from the New York Times, Glamour, Business Insider, and Vogue. What's more, the brand has a substantial following of over 999k followers on their Everlane Instagram, 35.5k followers on Twitter. They were named #3 in the Most Innovative Company list by Fast Company in 2019.  
This Everlane clothing review will take an in-depth look at the brand and its products, customer ratings, promotions, and more, to help you decide if their products are worth the buy.
Everlane is a brand that believes we can all make a difference. It was created by Michael Preysman in 2010, who believes the company looks at fashion through a utilitarian lens.
Everlane's mission is radical transparency. That means that the brand will only partner with the best ethical factories worldwide, source the finest materials, and share every step of the process with the consumer.
The Everlane headquarters are located in San Francisco, California. However, the company has a list of factories on its website, with manufacturers in America, China, Italy, Peru, Spain, Sri Lanka, and Vietnam.
Everlane Clothing The 100% Human Typography Hoodie
The 100% Human Typography Hoodie is made from 100% comfortable cotton and sports a boxy fit. What sets it apart is the large-scale 100% Human typography. This hoodie is perfect for running errands or lounging around the house, all while supporting a good cause. Match the 100% Human Typography Hoodie with a pair of leggings, throw on some running shoes, and you're ready to face the day.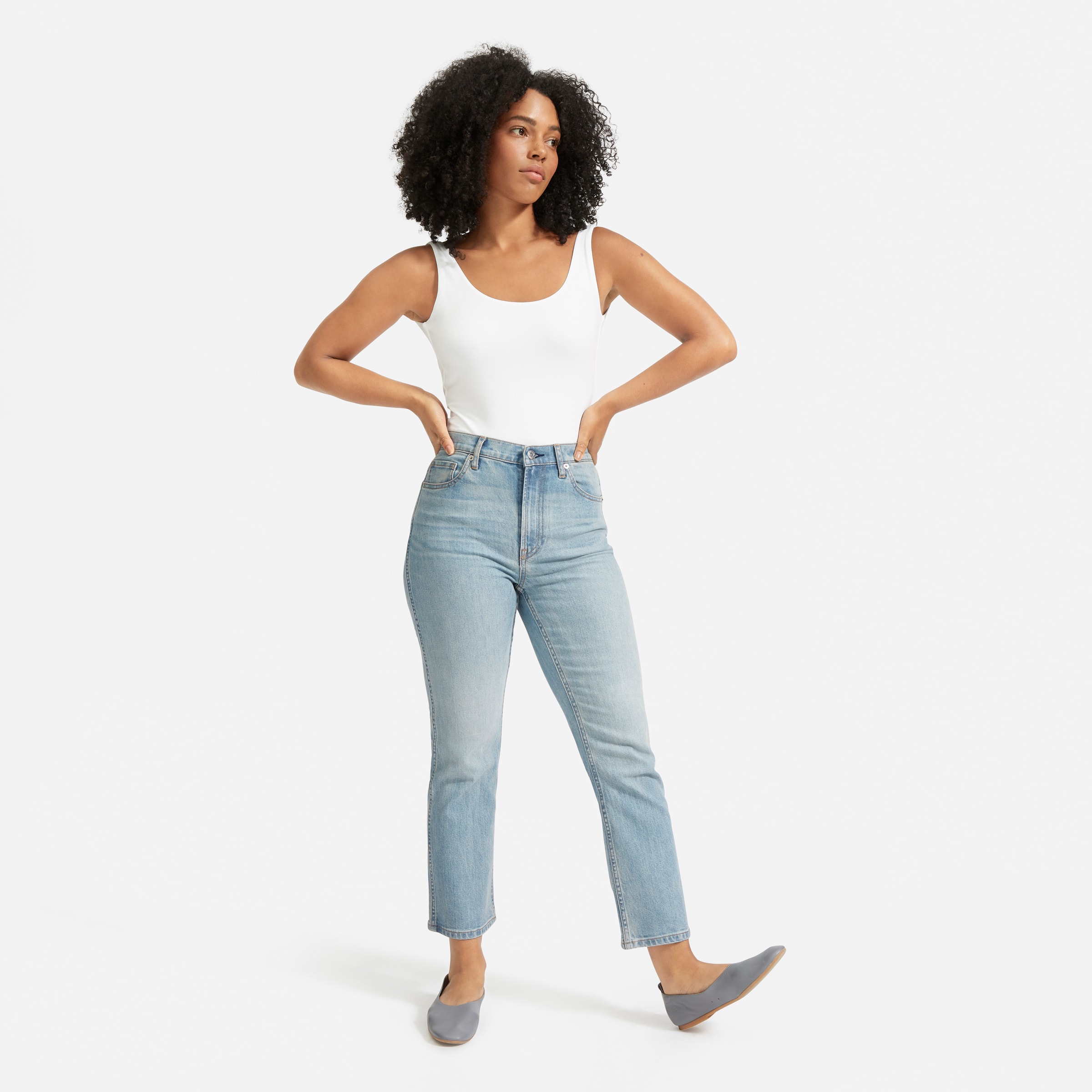 Everlane Cheeky Bootcut Jean
The Cheeky Bootcut Jean is modern with a slightly straighter leg, and just the right amount of stretch. The result? Your best butt meets leggy denim. Complete this outfit with a simple tee and your favorite booties, and you have all the elements needed to slay this look. The Cheeky Bootcut Jean is available in Sun-bleached Blue, Washed Black, and their Classic Blue Wash. Everlane lets customers customize their jeans with the option to choose regular length or ankle length.
Everlane The Day Glove
A shoe that fits like a glove – and hustles all day. The Day Glove is made of buttery, soft Italian leather that molds your foot for a custom fit. With features like a back pull tab, side vents, a rubber sole, and cushioned insole, these are truly the champion of flats. The Day Glove is made for those critical work meetings in your most fashionable power suit, with comfort that feels like soft socks. It's important to note that Everlane cautions users on sizing; 5-6.5 run large, and 9-12 run small.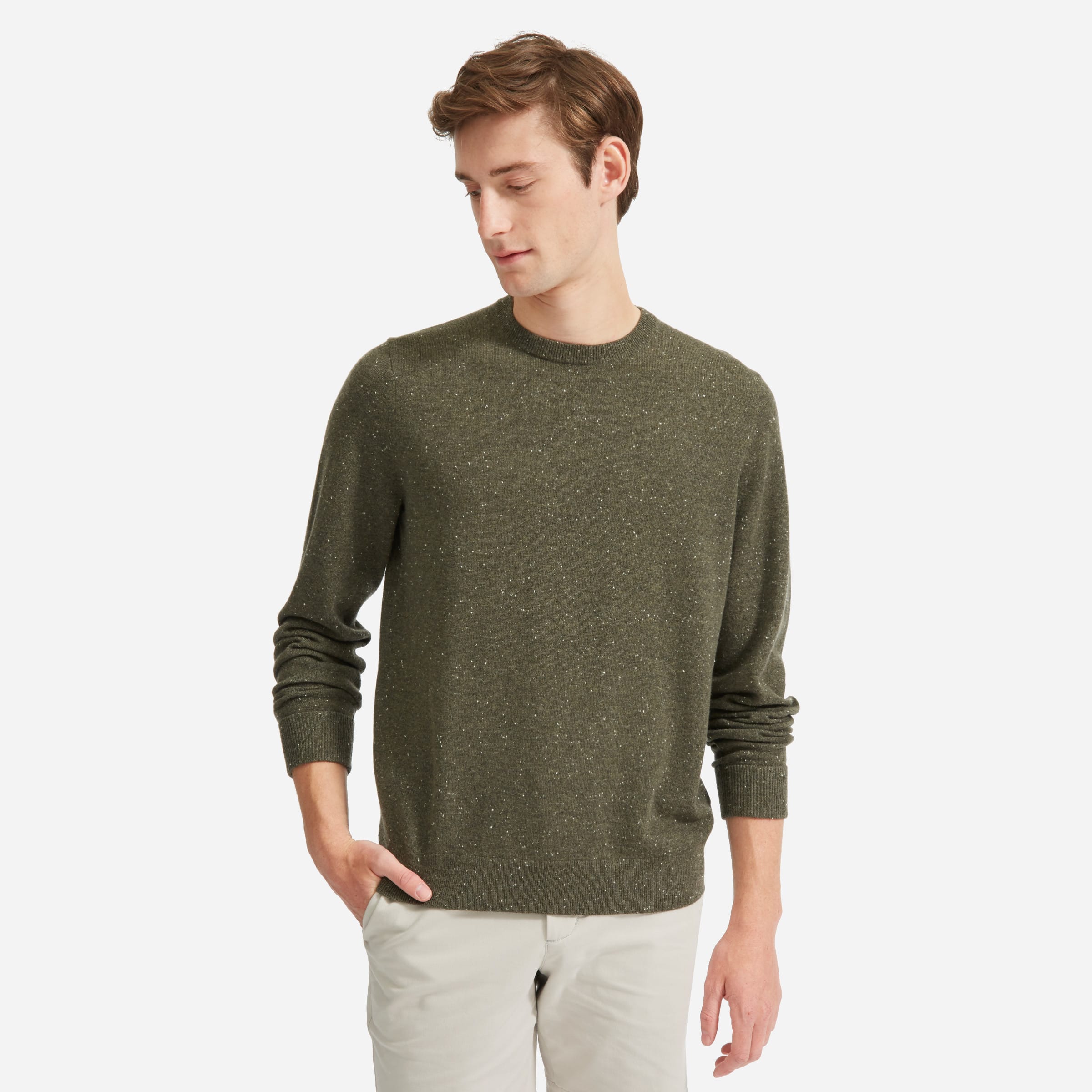 Everlane Grade-A Cashmere Crew
The Grade-A Cashmere Crew is a timeless style that welcomes a luxury upgrade with the soft and lightweight warmth of cashmere. The cashmere is made to trap heat, though not all cashmere is created equal. Everlane sources their Grade-A cashmere from Inner Mongolia, using only the longest and finest fibers. The Grade-A Cashmere Crew is the ideal sweater for those chilly days in autumn or winter. This crew sweater has a slim fit and is machine washable on a cold cycle. Just be sure to lay flat to dry.
Everlane The Slim-Fit Performance Chino
These trendy chinos are sweat-wicking, quick-drying, and offer 4-way stretch. An authentic chino looks designed for everyday wear. The chinos are available in Black, Slate Grey, Stone, and Navy with a slim or athletic fit.  The Slim-Fit Performance Chino comes with a 365-guarantee, meaning Everlane will send you a replacement pair if they prove to be defective within a year.
Everlane The Forever Sneaker
This fully recyclable sneaker is a timeless style that was designed to be an easy, comfortable shoe. These lightweight sneaks feature sustainably sourced rubber and cotton canvas. The Forever Sneaker is machine washable for easy care. Wear it with whatever casual ensemble– no need to overthink it. Whether you want to rock slim-fit jeans, tee, and a leather jacket, or want to spice it up with a blazer, these neutral sneakers can vibe with it.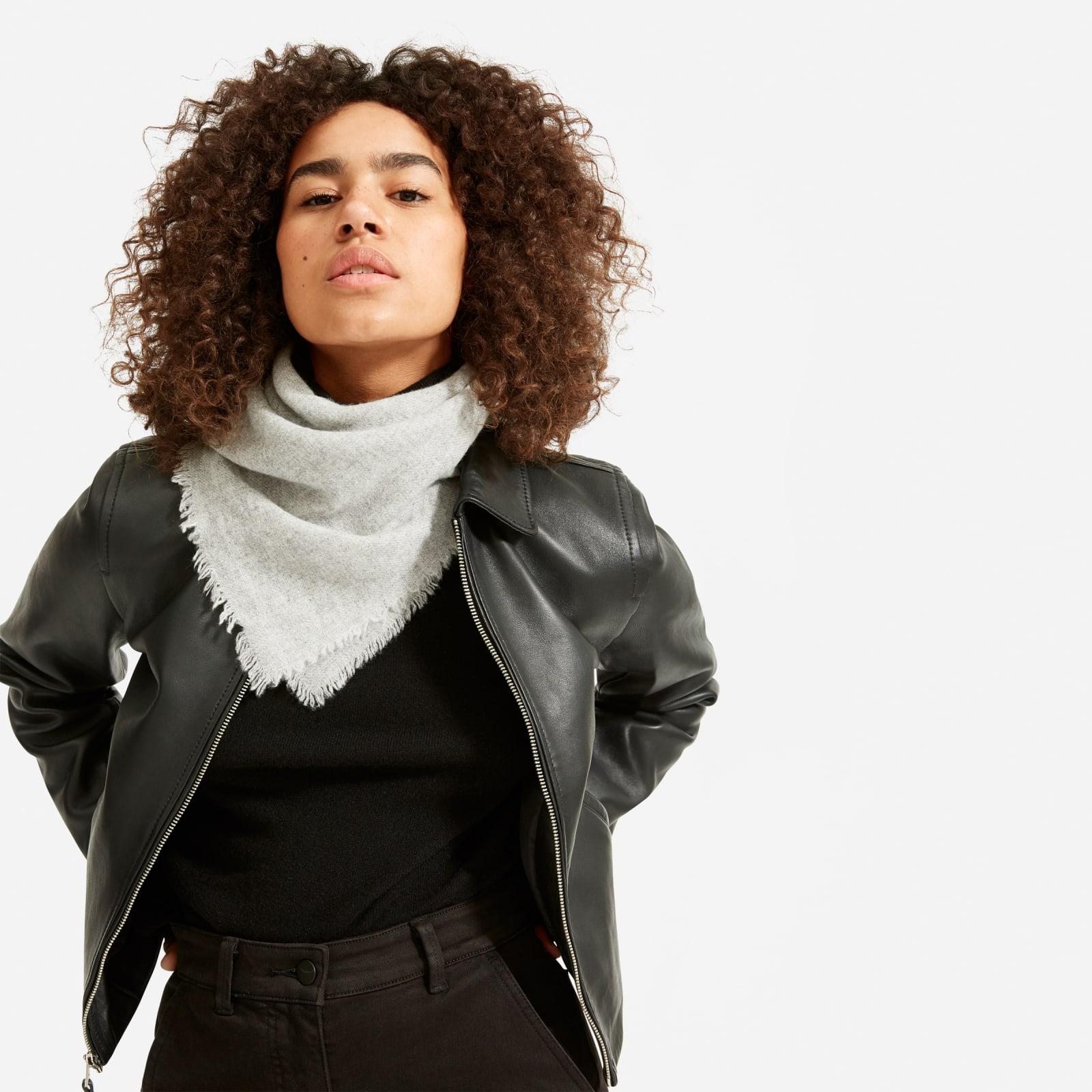 Everlane The Cashmere Bandana
Made from 100% cashmere, this bandana is super-soft and light enough to wear all day. Plus, it's as cozy as can be. This cashmere accessory is available in 3 muted shades (Heather Grey, Black, Camel) for a stylish finishing touch to outfits. The Cashmere Bandana pairs flawlessly with your favorite oversized cozy sweater, distressed jeans, and suede boots.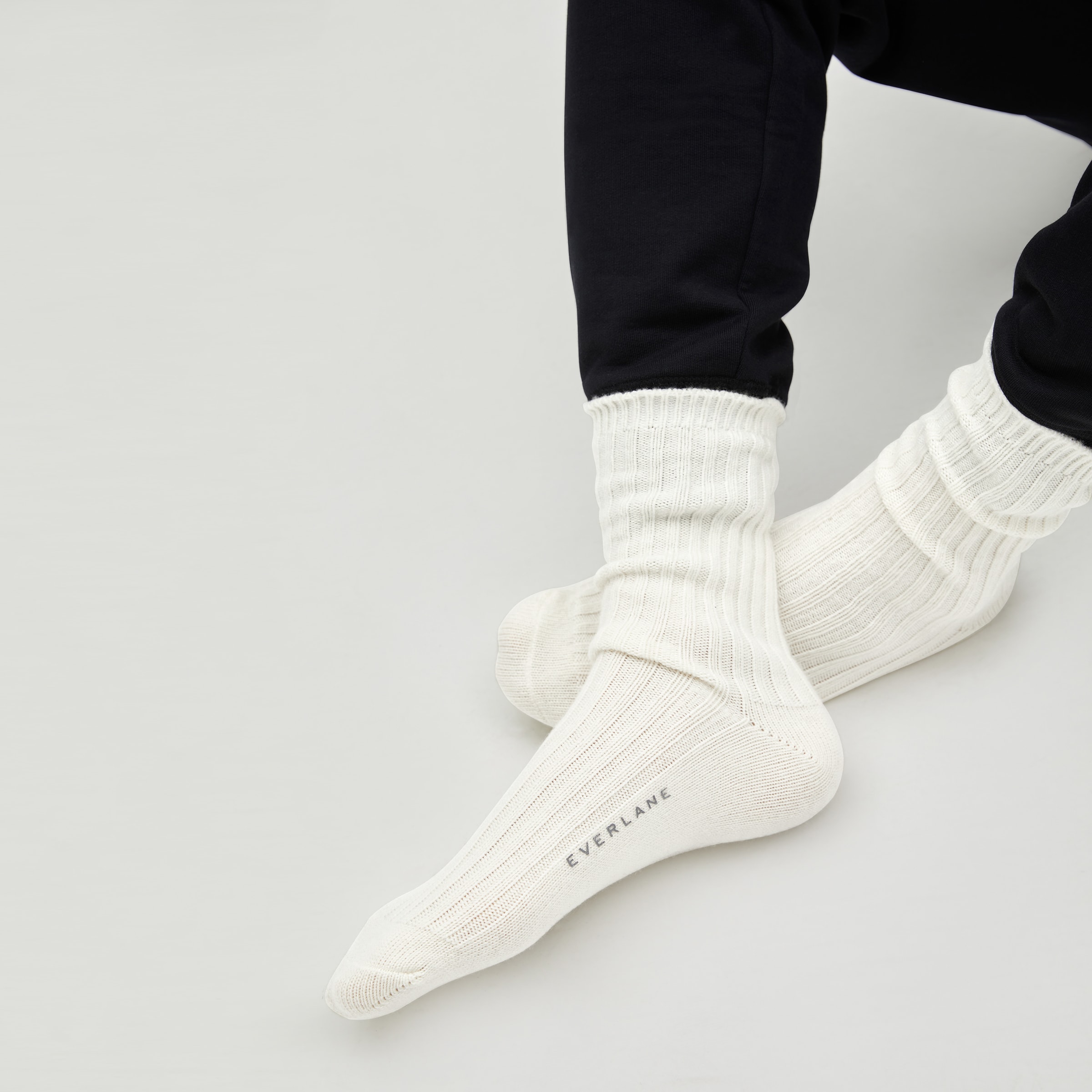 Everlane Ribbed Wool-Cashmere Socks
These are the crown jewel of Everlane socks. They keep your feet warm and cozy with 100% cashmere and wool sourced from the finest of fibers. They're ideal for those cold winter days or nights and are guaranteed to keep your feet warm. Made for everyone and anyone to enjoy, The Ribbed Wool-Cashmere Socks can be worn with any cold-weather look.
Everlane The ReNew 13" Transit Backpack
This backpack is made from polyester and plastic bottles that are 100% recycled and dyed with bluesign® approved dyes, which is safer for both the dyehouse workers, as well as the environment. Additionally, the backpack's water-resistant finish is fluorine-free. The environment will thank you.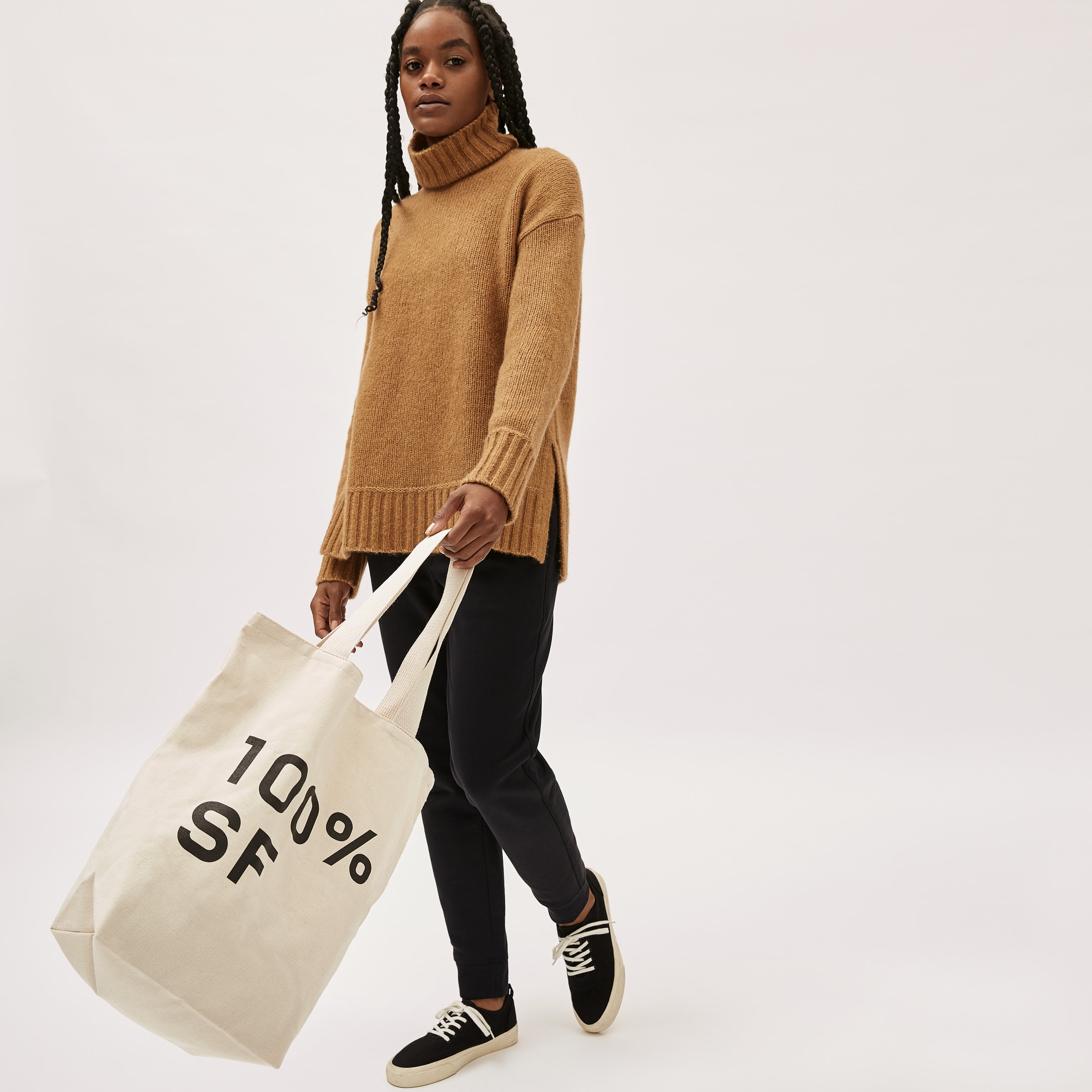 Everlane 100% SF Tote
The 100% S.F. Tote is made of soft, durable cotton and features two over-the-shoulder straps, plus an extra-roomy main compartment. It features an exclusive logo that celebrates Everlane's connection to San Francisco.
The bottom line The website is an ever-expanding closet of improved-upon staples. Everlane pieces rarely risk discomfort in the name of aesthetics, and the brand executes as many iterations as possible with utilitarian and usually not gimmicky upgrades — like a leather flap to pull your shoes on easily, and holes poked into the sides of snug leather flats for breathability.